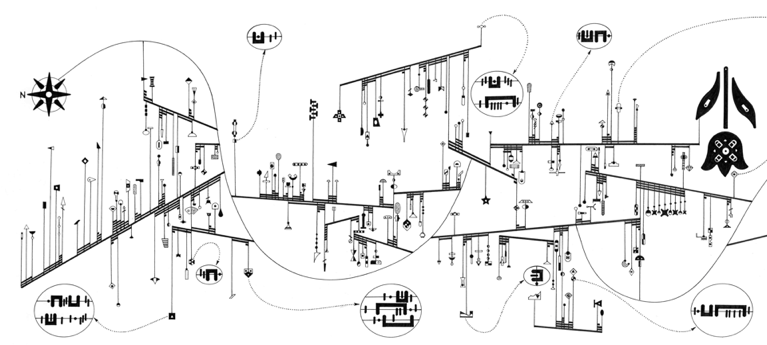 #VCLegacy2020 (7 August 2020 – 7 March 2021)
In response to the current restrictions on in-person group singing, the Vocal Constructivists are launching several new initiatives: a youth participation scheme, multiple fragmentary interpretations of Tom Phillips' Irma, and a remote performance of Mark Applebaum's Metaphysics of Notation that will grow incrementally and change infinitely.
Preparing for the Construction Site
Following in the model of the Scratch Orchestra (1969–72), the Vocal Constructivist ethos has been inclusive from its foundation (in 2011), welcoming all vocalists, with or without any formal musical training. It has always been inter-generational, with members' ages ranging from 19–79, but 2020 will mark the group's first engagement with younger vocalists, in an initiative called the 'Construction Site'. Building work will take place over a period of seven months, to introduce a new generation to singing and creating experimental music. Jane Alden and members of the Vocal Constructivists will host online workshops for young vocalists, aged 14–18. The initiative crosses continents, islands, borders, and postcodes. Participants will be drawn from the Cross Border Youth Choir (a joint initiative between Dublin Youth Choir and the Belfast Philharmonic Youth and Chamber Choirs, led by Lynsey Callaghan). Works by Mark Applebaum, Anthony Braxton, Neely Bruce, Cornelius Cardew, Roman Haubenstock-Ramati, Ron Kuivila, Laraaji, Paula Matthusen, Pauline Oliveros, Michael Parsons, Lauren Redhead, Wadada Leo Smith, Christian Wolff and others will be explored, discussed, and performed. Participants will also create their own new works in open notation.

On the day the first human steps were taken on the moon (20 July 1969), Tom Phillips, a British artist (born 1937), completed his first draft of Irma, an opera based on a Victorian novel by W. H. Mallock. It grew out of the musical tradition of Cornelius Cardew and the Scratch Orchestra. Phillips has mined and undermined W. H. Mallock'sThe Human Document in numerous art works, including many editions of the Humument, finding new ways of relating to contemporary events. The Vocal Constructivists continued this process of excavation in a version of Irma they performed in 2019, interweaving a multitude of perspectives. In 2020, they allow what Phillips calls 'bleeding chunks' of Irma to seep into other media formats.

Although graphic scores leave open many parameters (including instrumentation, pitch, rhythm, timbre, dynamics, and lyric content), performers can find it hard to resist falling back on practiced habits and traditions. Those familiar tropes should not be discarded, but part of the goal with graphic notation is to help performers find new sounds. In a 2020 initiative, the Vocal Constructivists deconstruct Applebaum's Metaphysics of Notation (2008), arriving at individual interpretations of every symbol and glyph. These will be recorded and stored in sound libraries. In online performances of the piece, a custom-built computer programme will draw from the libraries as it reads the piece, assembling different combinations of interpretations. The performance will continue to grow over 7 months. But even at the outset, no two versions will ever be identical, as the selections will be differently combined and sequenced each time, allowing the flexibility of the notation to reach its fullest potential for capriciousness.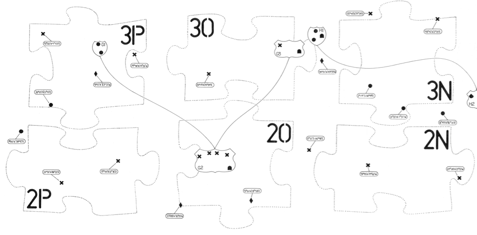 Opening Launch
In three separate sessions on 7 August, 2020, the Opening Launch featured panels with participants in multiple countries, making, creating, sharing, planning, and doing vocal constructivist activities. The following three areas of focus were introduced, all of which are ongoing:
The Construction Site

The opening workshop introduced some of the principles of experimental vocalization. Jane Alden outlined the history of 'Scratch' music, and Cardew's promotion of music-making with people who had been 'spared the misfortune' of a traditional musical education. Discussion of participatory music, Deep Listening, environmentalism, and the use of technology continues and has coalesced in a celebration of the 250th anniversary of the birth of Beethoven with the launch of a performance of Oliveros's Bonn Feier (1977), a verbally notated theatre piece written for a city, college or university environment. The city in this performance is constructed online, with hubbub continuing until March 2021.
Reconstructing Irma

The artist Tom Phillips joined us for the premiere screening of Golden Irma, a newly created micro film that reinterprets the Vocal Constructivists' 2019 performance of Irma. The screening was followed by a Q&A with the performers and a discussion panel related to the Vocal Constructivists' ongoing engagement with our multiple incarnations of each Humument character, as they now seek to connect with each other remotely.
Constructing Infinity

The composer Mark Applebaum joined this workshop to introduce his Metaphysics of Notation. The score is 72 feet long, divided across 12 six-foot panels. Charles Hutchins introduced his custom-made computer programme, designed to enable the Vocal Constructivists to realize this score remotely, in an ever-changing interpretation. The computer has its own editorial prerogative, to transform and manipulate our samples in certain conditions, thereby allowing us all to hear our voices in new ways. All of the sounds generated will be made by the human body, without the use of additional instruments. The project was launched with a live rendition of panel 10. The virtual Vocal Constructivists invite all interested singers to contribute their realisations of Applebaum by going to https://infinity.vocalconstructivists.com/upload/login.php and registering in order to receive a login and the means of contributing to infinite variety.

Two-Day Festival: 6–7 March 2021
In addition to performances by the Vocal Constructivists and the Construction Site singers, the end of the seven-month project will be celebrated with an array of workshops on Deep Listening, extended vocal techniques, DIY music-making, found sounds, calligraphy, and text scores. The festival will feature artists and writers (e.g., Mark Applebaum, Bridgid Bergin, Nir Bitton, Laraaji, Kerry O'Brien, Michael Parsons, Tom Phillips, Lauren Redhead, and Howard Skempton) who will engage online with participants and audience. In memory of Carole Finer, who died in March 2020, some of her pieces will be performed alongside a selection of new works by the Construction Site singers, as an expression of our commitment towards building future generations interested in experimental musical practices. More soon at #VCLegacy2020.
Further details on Metaphysics of Notation as an infinitely flexible construction
The mercurial spray of pictographs that comprise Applebaum's Metaphysics of Notation were hand-drawn using pens, drafting templates, French curves, and straight edges. Applebaum initially offered no instruction regarding its interpretation. Precise pitches, rhythms, tempi, registration, style, and instrumentation are all left for performers to decide. Although he later published a Handbook for the Metaphysics of Notation, this essay underscores Applebaum's determination not to exert compositional control over the performances his score elicits. These ideas are explored in Robert Arnold's insightful documentary There Is No Sound in My Head, and on the Innova DVD, The Metaphysics of Notation. The Handbook was later published in a volume entitled Music and Shape, ed. Daniel Leech-Wilkinson and Helen M. Prior (OUP, 2017). Applebaum asserts that this graphic score has features (form, structure, contours) that are common to most music.
Applebaum does not encourage improvisation; instead, players are invited to predetermine a thoughtful means to sonify (with exactitude) an inferred musicality. The work is multi-media (moving between visual art and music); it is as much a musical filter as a musical prescription, with the score presenting conceptual substance through which the expressive energy of musicians must pass. The study for this piece, Medium, was originally commissioned in 2007 by the Quiet Music Festival, in Ireland.